So, what exactly is it? Stand up paddle boarding (or SUPs) involves standing up on a board that is floating on water. Boarders use a long paddle to propel themselves through the water, and it can be done standing, kneeling or sitting on the board. Not only does it give you a full upper and lower body workout, but it's heaps of fun too!
The best bit? You don't need to be an expert to paddle board. It's suitable for every fitness level and every age group (yes, even the kids!).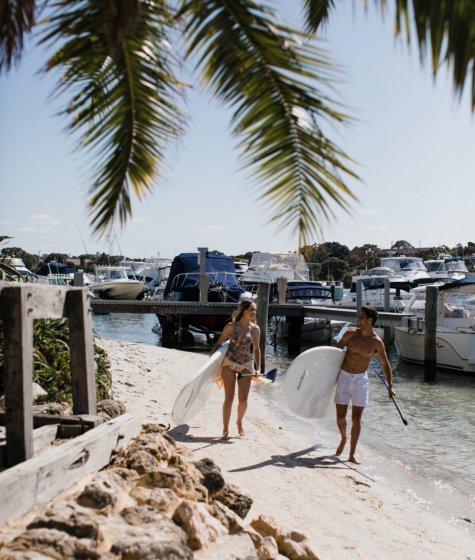 These days, there are stacks of places where you can hire paddle boards on an hourly rate, but here at Pier 21, we offer the use of our paddle boards to guests completely free of charge.
Our luxury accommodation in North Fremantle, Western Australia, is just a stone's throw away from both the Swan River and the Indian Ocean – making it the perfect destination for your next paddle boarding adventure!
Here's a round-up of some of the best places to take your stand up paddle board in Fremantle and get out on the waves.
North Fremantle Foreshore
The North Fremantle foreshore is a beautiful section of the Swan River that is extremely popular with family groups and dog owners.
Not only is it a stunning vicinity, but it's an extremely short walk from Pier 21.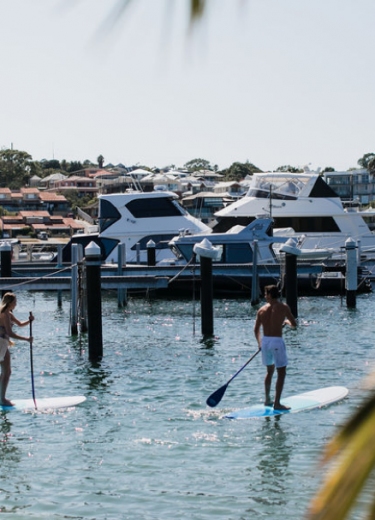 The wave breaks here are extremely gentle, making them the perfect place for beginners to practice and refine their new paddle boarding skills.
Once you've finished working up an appetite, the cafe & bar strip on Stirling Highway is just a stone's throw away.
Bicton Baths
Situated next to East Fremantle, Bicton Baths is a popular sheltered swimming spot for families on the Swan River. Best known for its water activities thanks to its calm, clear shoreline, you'll no doubt see a swimming lesson or two underway when you visit.
For stand up paddle boarders, Bicton Baths is an idyllic place for exploring. Head upriver towards the sandbar at Point Walter and enjoy the stunning views along the way.
Once you're done, why not have a relaxing picnic in the picturesque parklands overlooking the Swan. Both Bicton Baths and Point Walter have lovely grassed reserves that are popular with families.
Cottesloe Beach
A visit to Perth wouldn't be complete without a visit to Cottesloe Beach, or 'Cott'. Arguably the Bondi of Western Australia, Cottesloe is renowned for its relatively calm crystal clear waters and its stunning views over the Indian Ocean, and is loved by locals and tourists alike.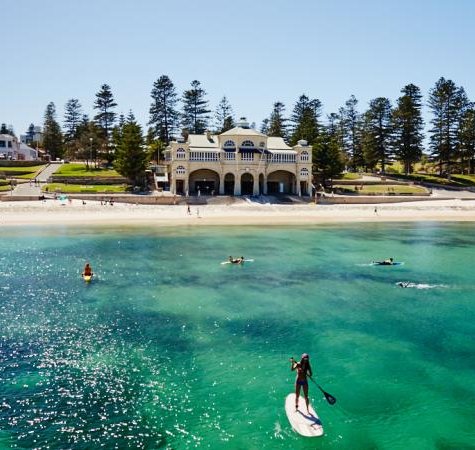 Image: CBHStays
Just a five minute drive up the coast from Fremantle, Cottesloe Beach is extremely popular with SUP enthusiasts who enjoy a bit of oceanic action, and Cott has a number of gentle breaks that are perfect for all skill levels to practice in.
Rottnest Island
Feel like a bit of alone time away from the crowds? Just a short ferry ride from Fremantle, Rottnest Island boasts more than 20 bays to enjoy and explore all on your lonesome.
For SUP boarders, the cosy inlets will give you a taste of ocean boarding without the swells or gusty winds. Keep an eye out for the stunning coral reefs and shipwrecks that 'Rotto' is renowned for.
When you're finished out on the water, you can enjoy some lunch at the local pub or head back to relax at Pier 21. Don't forget to say hello to the friendly quokkas too!
Shelley Beach Park
Follow the Swan River around towards the Perth CBD, duck into the water inlet at Applecross and you'll find yourself on the Canning River. Located on the Shelley Foreshore, the Shelley Beach Park precinct is hugely popular with families and is a beautiful place to spend the day.
For paddle boarders, the area generally offers protection from the wind and gentle waves, making it the perfect spot for SUP kids and beginners. Up for more of a boarding challenge? Try a return paddle from Shelley Beach Park to Canning Bridge. You may even get to see a friendly dolphin.
Whether you're after a long stay hotel or short-term serviced apartments in the Perth surrounds, Pier 21 has got you covered. For more information, get in touch with the team at Pier 21 in Fremantle today on (08) 9336 2555 or via our contact form here.