Not sure where to stay in Perth for a school holidays getaway with the kids?
Pier 21 Apartment Hotel in Fremantle offers spacious, serviced apartments that can accommodate the entire family – four-legged members included!
While the adults relax on private balconies and poolside sun loungers, the kids will enjoy splashing in the indoor and outdoor pool, having a go at table tennis and exploring the quiet riverside foreshore beside the hotel.
While you might struggle to find a reason to leave the sanctuary of Pier 21, Perth is a very family-friendly city and is home to an abundance of parks, playgrounds, and kid-friendly activities.
Some of the best things to do with the kids are only a short drive away from Pier 21, and are bound to offer a great day out for the whole family.
Whether you're coming from within WA or from over east, these are the top things you should do with your family during your next stay at Pier 21.
Adventure World
Kids and adults alike are guaranteed to have a blast at Adventure World. Located in the suburb of Bibra Lake, the family-friendly theme park is only a short 20 minute drive from Pier 21. A day ticket includes entry to the park and unlimited access to over 25 theme park rides and waterslides. If you have children under six then stick to the Dragon's Kingdom area and its collection of smaller rides made for little ones. Otherwise, bigger kids will love the park's exhilarating range of waterslides, roller coasters and go-kart racing attractions.
You can grab lunch from Adventure World's cafe, or you may choose to pick up some gourmet sandwiches from North Fremantle's local deli, The Black Truffle, on the way in. By the time you get back to Pier 21, the kids are guaranteed to be worn out, and you can enjoy a relaxing evening.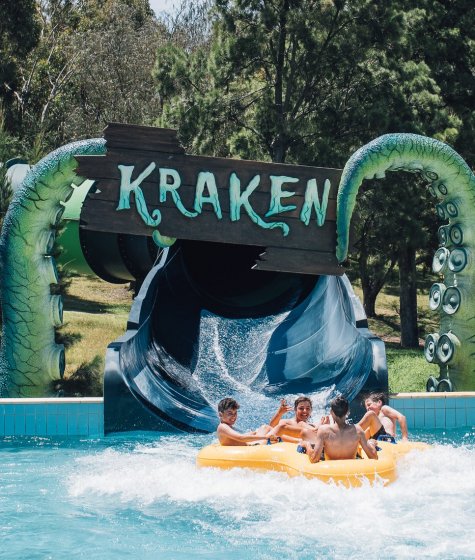 Perth Zoo
Perth Zoo contains 41-acres of luscious botanical gardens and 164 different species of animals from around the world. Divided by geographical region, each enclosure mimics an animal's natural habitat, with visitors able to experience authentic African savannah, Asian rainforest and Australian bushland landscapes. Children will love tiptoeing through the eerie nocturnal house and getting a chance to see the reptile house's giant 5-metre reticulated python up close.
Freshwater Bay
Perth is a riverside city and there are so many beautiful spots to spend a leisurely afternoon with the kids by the water. Just around the corner from Pier 21 is the spectacular Freshwater Bay. The protected bay is one of the prettiest places to have a picnic in Perth. With ample shady spots to lay down a picnic rug and settle in for the afternoon, the kids can paddle safely in the calm waters, explore the long stretch of riverbank and have hours of fun on the nearby playgrounds. The adults can grab a takeaway coffee from Freshwaters Cafe and everyone will enjoy taking in the spectacular views of the Swan River.
Freshwater Bay is only a ten minute drive from Pier 21, or alternatively, a 20 minute bike ride.
WA Museum Boola Bardip
The WA Museum Boola Bardip is full of fascinating, interactive exhibits that showcase Western Australia's culture, history and natural world. Starting in the wildlife gallery, children can learn about Western Australia's diverse flora and fauna through a series of sensory and explorative displays, while budding palaeontologists will enjoy the lifesize prehistoric marine creatures, megafauna and dinosaur models. If the grandparents are tagging along, they will likely enjoy browsing the museum's collection of Western Australian cultural history, including a carousel from the 1930's and carefully preserved photo albums.
The museum is located in the Perth Cultural Centre precinct and is free to enter.
Port Beach
If you're in need of a more laid-back day out, then you should head to one of Fremantle's great beaches. Port Beach is one of the best beaches for kids in Perth. The beach is a short ten minute drive from Pier 21, or if your family is feeling active, you might choose to hire a bike from Pier 21 and enjoy an easy 10 minute cycle there.
The beach offers relatively calm conditions all year round with regular lifeguard patrols every week. Towards the northern end of the beach, you will find Orange Box cafe with hammock swings and a large grassy area for the kids to play. If you have brought your pet along, then you will want to continue north towards the dog-friendly end of the beach.