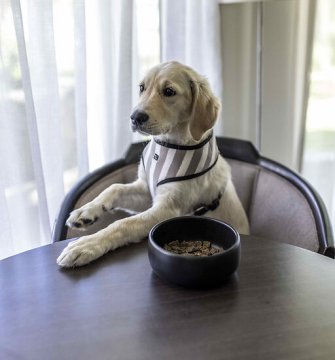 How do I book a dog-friendly room at Pier 21?
Our friendly dog-loving team are here to help you and your pooch explore Fremantle. When you make your booking, please make sure to let us know that you'll be bringing your dog! You can also send us an email at reservations@pier21.com.au.
Everything you need to know about our dog-friendly stays
Fees
When you bring your dog along to Pier 21, we do have to charge a small cleaning fee of $45.00 per night. This equates to a boarding price for your dog if you were to come without your loved one.
Pet care
Forgotten your best friend's trusty toy? Don't worry – we have dog bowls and balls for you to use. We also provide you with plenty of dog bags for their waste. Has Fido ventured into the river and gotten muddy? We can provide extra towels, just let us know!
Facilities
You can go almost everywhere with your dog at Pier 21 – only the breakfast lounge, outdoor and indoor pools, and gym area are no-dog zones. When around the public walkways, please make sure you also keep your pooch on a leash. Right beside your apartment is Gilbert Fraser Reserve, which is completely dog friendly with wide open spaces for your dog to run and enjoy. Plus, we are located right on the banks of the Swan River, which are also dog friendly.
Hotel facilities
Enjoy some fun in the sun or relaxation time with our free leisure facilities.
Tennis court
Table tennis
Fitness centre
Indoor heated pool and jacuzzi
Outdoor swimming pool
BBQ area and pool side dining areas
Paddle boards
Push bikes
Fishing rods
Additional info for pet stays
Almost everywhere!

Only the Breakfast Lounge, outdoor pool, indoor pool and gym area are dog-free areas. But hey, why would they when they have the best walking tracks and little beaches to swim on our doorstep? When around the public walkways, please keep your pooch on a leash.

You sure can – the only exception is if your dog is extra chatty, please do not leave it alone for the comfort of all guests staying.

We have installed a gate especially for our dog-loving new friends to access the Swan River in the property.